Our Team
---
Our team consists of experienced and dedicated individuals who are kind, friendly, and caring. Our staff is here to provide the best care possible and ensure a pleasant experience during your visit to our office.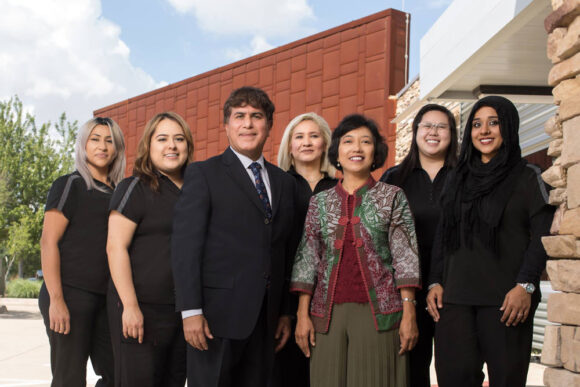 Meet Your Doctor
Dr. Atif Sohail is a Board-Certified cardiologist, providing comprehensive and state-of-the-art services, including testing and treatment of cardiovascular disease and disorders, in Arlington and nearby cities for over 11 years. Dr. Sohail founded his own cardiology practice shortly after completing cardiology training abroad, as well as in the United States in 2001. After 5 years of practicing in Oklahoma, he relocated to Arlington, Texas where he remains. His services for the Arlington, Ft. Worth and Dallas communities include: a state-of-the-art outpatient clinic, in-patient management, emergency care, supervision and training of rotating students seeking a career in medicine.
Dr. Sohail's clinical areas of expertise include: Coronary Artery Disease, Peripheral Vascular Disease, Heart Failure, Complex & Severe Hypertension, Cardiovascular Disease in Women, Coronary & Peripheral Stents, Sports Related Heart Disease, Management of Rhythm Disorders, Cholesterol Management, Preventative Cardiology and Cardio Vascular Manifestation of Sleep Apnea.
Besides a thorough history and physical, cardiovascular tests may include EKG, Holter Monitor, Echocardiogram, Stress Test, Sonography, Nuclear Testing, and Sleep Test. The screening for heart disease may include several of these tests. Additional tests and treatments such as Angiogram, Balloon Angioplasty, stents, and pacemakers are recommended if needed.
Dr. Sohail currently renders services in the two large regional community hospitals, Medical Center Arlington and Arlington Memorial Hospital, and is part of the acute heart attack management teams. Dr. Sohail is also affiliated with Kindred Hospitals and Texas Health Heart & Vascular.
Heart and Sleep Clinics of America, Dr. Sohail and his staff offer a perfect blend of science and compassion. We offer convenient and comprehensive cardiac checkups. Most insurance are accepted and we offer discounts for cash pay patients.
Call to make your appointment today.